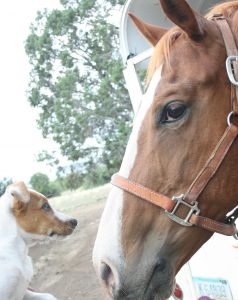 Prescott offers an incredible variety of equestrian communities and properties to give your horse a beautiful place to call home. Plus, Prescott provides miles and miles of trails for you and your horse to enjoy.   
As a side note, if you will want to visit the Groom Creek Horse Camp – it has fantastic camping and trails! More Information Here 
Below is information on some of the equestrian communities in the Prescott area. Although this isn't an exhaustive list, numerous areas with horse properties exist in the quad cities of Prescott, Prescott Valley, Chino Valley, and Dewey-Humboldt.  
Prescott Prairie, Prescott Valley
Prescott Prairie in Prescott Valley, Arizona, is located on the north side of the Coyote Springs community near the base of Mingus Mountain. Prescott Prairie offers a peaceful country lifestyle with all the amenities of city life. This upscale community provides newer custom site-built homes. The minimum acreage in this community is 2 acres, so you have lots of room for horses, gardening, or a guest home. This community offers upscale homes on 2 acres with a peaceful country lifestyle. This rural community is located only a few miles from schools, shopping, and dining in Prescott Valley.
There are still multiple lots left to choose from for you to build your dream home. The tremendous mountain views, paved streets, and underground utilities are just a few of the reasons why people fall in love with Prescott Prairie.
See Prescott Prairie Homes For Sale
Prescott Ridge, Prescott Valley
One of the premier locations in the Prescott Valley area is the gated community of Prescott Ridge. This development features 10 to 54-acre parcels covered by various vegetation, including juniper trees and pinon pines.  
Prescott Ridge is a fantastic location for horse owners or someone searching for that little piece of paradise for their new home. This upscale gated community also offers underground utilities and paved roads, value protecting CC&R's, along with horse privileges.
American Ranch, Prescott
American Ranch is a prestigious community located just a few miles north of Prescott in the Williamson Valley corridor. This popular World Class Master Planned Equestrian Community neighbors the Prescott National Forest. There are approximately 240 homesites in the American Ranch community.  
Homes are custom-built and take advantage of the breathtaking mountain views, sitting on 1 to 5-acre parcels. Residents enjoy a $3 million Equestrian Center, fitness/exercise center, outdoor heated pool, spa, tennis, basketball, and a catch and release bass fishing lake. 
Coyote Springs, Prescott Valley
The Coyote Springs Corridor is the section on the north side of 89A on the north side of Prescott Valley. This corridor is a rural area, with the average lot ranging from 2 to 10 acres. Homes in the Coyote Springs Corridor are within minutes of schools, shopping, the Prescott Valley Event Center, and the new Yavapai Regional Medical Center East Campus.  
The Coyote Springs corridor included: Coyote Springs, Mingus Meadows, Prescott Prairie, Antelope Meadows, and Poquito Valley.
 Coyote Spring Area Homes For Sale
---
About Liz Norvelle
Liz Norvelle believes that building a relationship based on respect and trust is what truly matters.
Liz lived in the Grand Canyon for nearly 20 years and during that time she made the beautiful outdoors of Northern Arizona a part of her daily life. When she and her family moved to Prescott they bought a house and had a great experience with their Realtor. Liz decided she wanted to become a part of that great team and found they share the same vision of customer care, respect and service and also understand the importance of supporting the community in which they practice their business.
Liz and her husband make the time to take advantage of what our great outdoors offers. From kayaking on Watson Lake or Lynx Lake to get a glimpse of the Bald Eagles, to mountain biking any of the hundreds of bike trails in the Prescott area, or even hiking up and around Granite Mountain to witness the spectacular views. Their son has been very successful participating in Nationally recognized mountain bike races here in Prescott ( The Whiskey Off-Road has the largest purse in the U.S.) as well as coaching one of the high school mountain bike teams while attending Yavapai College for his degree in Fire Science.
The exceptional customer service that Liz provides will establish the groundwork for a relationship with her clients that will continue into the future when you're ready for your next home or when friends and family come to join you in your new home town.
Please contact Liz, she will take the time to get to know you and assist you in finding a home that best fits your lifestyle needs.