Spring is the perfect time to get your real estate on the market. There's no better way to make a good first impression than by boosting your home's curb appeal. Compared to a few years ago, homes today need more preparation to generate buying interest. Although inventory is still historically low, updated homes priced at market value are the quickest selling. Chief Economist Danielle Hale states, "In a market where costs are still high and buyers can be a little choosier, it makes sense they're going to really zero in on the homes that are the most appealing."
That's why ensuring your home stands out in the real estate market is essential. First, work with a trusted real estate agent who can help you understand the most valuable improvements in your local market. Secondly, understand that curb appeal may not generate a higher sale, instead it may aid in a quicker sale. Investopedia states, "Curb-appeal projects make the property look good as soon as prospective buyers arrive. While these projects may not add a considerable amount of monetary value, they will help your home sell faster—and you can do a lot of the work yourself to save money and time."
Curb Appeal Projects to Consider
You'll want to focus on the areas of your home that will be immediately noticed. Here are a few smaller tasks you can accomplish in preparation for potential buyers:
Power washing the exterior walls and walkways
Freshening up landscaping with grass seed, mulch, and flowers
Pressure washing the driveway
As for larger projects, the 2022 Remodeling Impact Report from the National Association of Realtors (NAR) highlighted that these home improvements bring a larger return on your investment:
Garage Door: A new garage door can yield an outstanding 100% return on investment.
Roofing: Replacing a roof is costly but can yield an impressive 100% return on investment.
Steel Front Door: A steel door replacement can deliver a 63% return on investment.
Fiberglass Front Door: A fiberglass replacement can generate a 60% return on investment.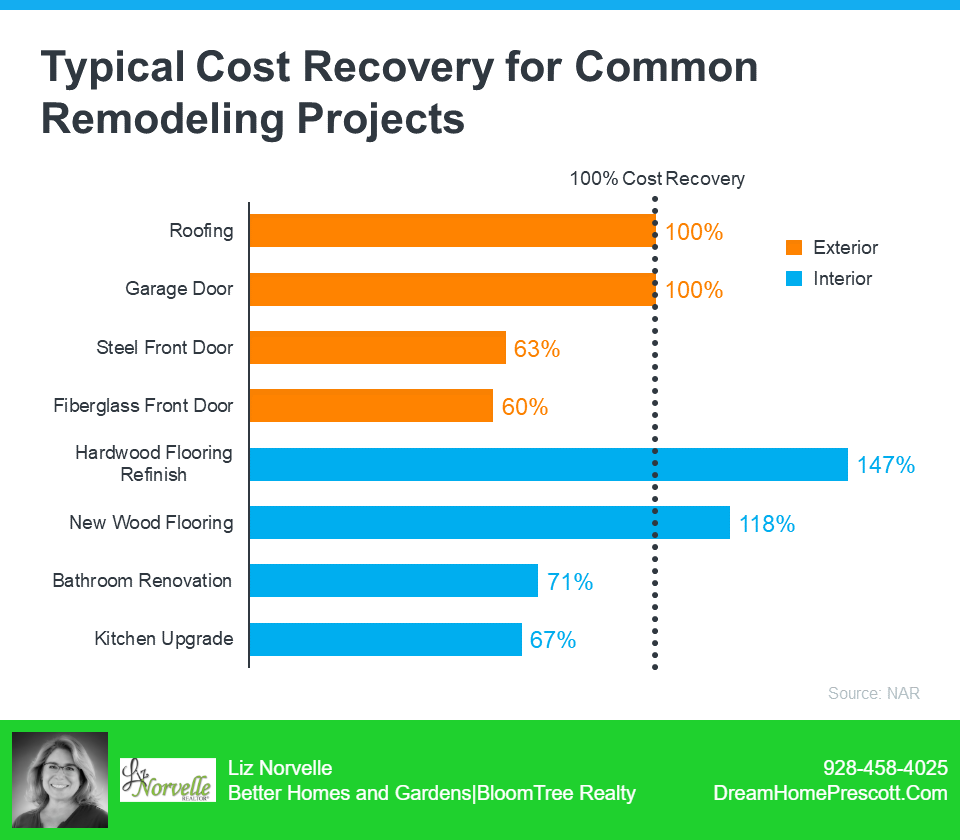 As stated above, consult with real estate experts. With the proper guidance and knowledge, you can gain an edge over other homes on the market. Contact me today, I would love to help you with all of your real estate needs!
---
Liz Norvelle believes that building a relationship based on respect and trust is what truly matters.
The exceptional customer service that Liz provides will establish the groundwork for a relationship with her clients that will continue into the future when you're ready for your next home or when friends and family come to join you in your new home town.
Please contact Liz, she will take the time to get to know you and assist you in finding a home that best fits your lifestyle needs.